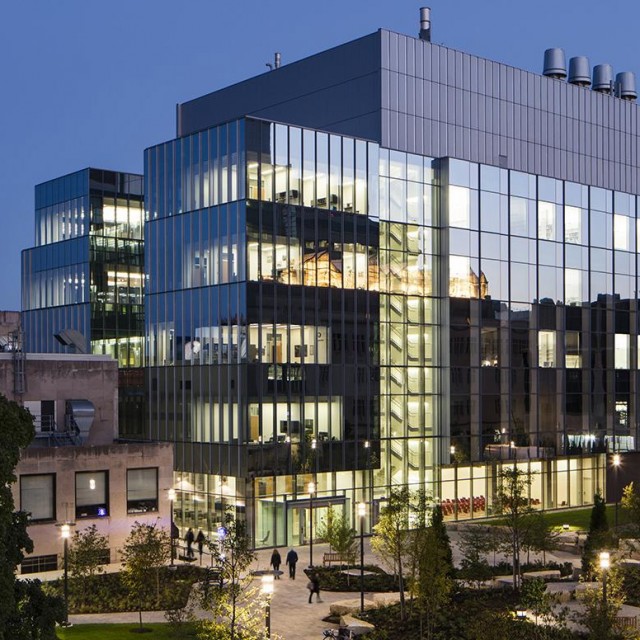 Research
Our pursuit of immunoengineering integrates basic science, engineering, and clinical experience. Only in this intellectually-rich atmosphere can we rapidly identify unmet needs in human health and align those with immunological insights and create practical solutions and interventions.
Our discoveries don't stay in the lab. We actively prepare them for commercialization. Whether you're a researcher or a prospective partner, there are any ways to get involved in immunoengineering innovation.
Thrust Areas
By the Numbers
7

startups since inception

$437,024

average total funding per PI

4.0

publications per PI in 2020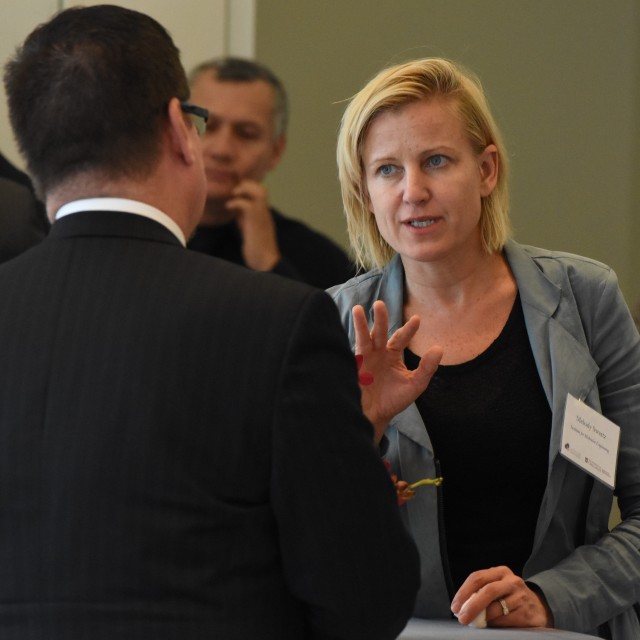 Partnering with the CIIC
Are you a principal investigator or clinician interested in working with us? There is no formal membership process to be a partner PI/clinician. We offer access to postdoctoral & graduate fellows, our technical staff, tools, and project bridge funds on a case-by-case and rolling basis available throughout the year. Please send a message to the leadership with a Biosketch and a description of how you would like to get involved!
Quick Links
Patents, Intellectual Property, & Licensing
Our mission is to use engineering principles to elucidate immune system function and innovate solutions addressing immunological problems in human health. Our discoveries are launchpads for further translational development - which we pursue in the form of strategic partners in the private industry. The complementary expertises and capabilities of such partners are necessary to ensure that our discoveries achieve an impact beyond that possible through publications and conference proceedings.
The Polsky Center for Entrepreneurship & Innovation serves as the technology transfer office for the University of Chicago. We interface with their teams to ensure our technologies are available for collaborations, licensing, and for use by our startup companies. Below is a list of our patents to-date, with contact information for the designated business development & licensing officers for each piece of intellectual property.
• As of February 2021, there have been over 107 million cases and over 2 million deaths caused worldwide by the novel virus SARS-CoV-2. Few vaccination and treatment approaches are currently in use with many in development.
• The inventors isolated antibodies specific to spike and internal proteins of SARS-CoV-2 from a unique cohort of COVID-19 patients. The antibodies target non-overlapping epitopes and most afford neutralization activity.
• The product is a panel of over 100 antibodies that bind various SARS-CoV-2 proteins and can be used in both therapeutic and diagnostic applications.
• Antibodies were able to neutralize virus in a live SARS-CoV-2 viral plaque assay with Vero TMPRS22 cells.
Reference ID 21-T-040
Published: March 1, 2021
Inventor: Prof. Patrick Wilson
BD/Licensing Contact: Michael Hinton
For more information, click here.
​​​​​​• Selecting appropriate antigens on cancers is critical for development of T cell-based cellular therapies. Because of the enormous number/diversity of cancers it is impossible to clearly identify tumor antigens that can function as targets across different tumor entities and large groups of patients.
• Inventors at the University of Chicago have developed a proprietary platform called "Neo-T" allowing the use of mutant neoantigens from an individual's own cancer cells as a target structure for adoptively transferred T cells. The technology is based on the selection of a suitable pair of T cell receptors (TCRs) that can recognize neoantigens presented by patient MHC molecules. To achieve tumor eradication, one of the two TCRs must recognize a neoantigen in the context of an MHC class I molecule, and the other in the context of an MHC class II molecule. To increase the number/availability of neoantigen-specific T cells in a patient before TCR isolation, a vaccination strategy was developed using non-malignant surrogate cancer cells (SCCs) from the patient. Proof-of-principle studies demonstrated complete eradication of large and long-established solid tumors in mice. 
Reference ID 21-T-088
Published: January 31, 2022
Inventor: Prof. Michael Bishop
BD/Licensing Contact: Michael Hinton
For more information, click here.
• Toll-like receptor (TLR) agonists are considered promising alternatives for the estimated 50 – 75% of all cancer patients who are non-responsive to checkpoint inhibitors, and immune activation is enhanced upon stimulation of two distinct TLRs. However, the use of multiple TLR agonists as an effective therapeutic strategy is presently limited by the tendency of these agonists to diffuse systemically. Their distinct PK/PD profiles and different diffusion rates hinder local efficacy and increase toxicity.
• Nano-encapsulation of TLR agonists has been explored for local immune activation, and linked TLR agonists have been shown to have immunostimulatory effects with improved pharmacokinetics. The inventors exploited these to develop a novel nano-formulation for linked multi-TLR agonists.
• The invention is a sugar-peptide hybrid nano-formulation for multi-TLR agonists. This formulation improves therapeutic efficacy, and it significantly reduces hematological toxicities as a result of reduced systemic diffusion as compared to unformulated agonists. 
• In a highly immunologically unresponsive melanoma model, mice injected with TLR2/6_7 heterodimers in the invention formulation at day 9, 15, and 21 showed significant improved survival and reduced tumor growth as compared to mice treated with unformulated agonists. In addition, hematological toxicities in these mice were similar to control, significantly lower than in mice treated with unformulated agonists.
Reference ID 19-T-070
Published: March 6, 2020
Inventor: Prof. Aaron Esser-Kahn
BD/Licensing Contact: Michael Hinton
For more information, click here.
​​​​​​• Cancer cells induce a state of T-cell anergy to evade tumor cell clearance. PD-1 checkpoint inhibitors overcome this in some cases, however patient resistance and harmful side-effects limit its utility in others.
• Diacylglycerol Kinase (DGK) sits in the middle of a complex series of interactions that determine the strength of an immune response to a given antigen. The inventors discovered that downregulation of DGK can alleviate T-cell anergy in an alternate mechanism of action to PD-1 inhibition. 
• The invention is a series of small molecule inhibitors of DGK. Inhibiting DGK in turn allows the immune system to mount a defense against cancer cells and can be useful in patients who do not respond to traditional checkpoint inhibitors. 
• In ex-vivo proof-of-concept experiments, T cells from anergic mice demonstrated 2.4-4.8 fold increase in T cell activation as measured by IL-2 production when treated with a DGK inhibitors.
Reference ID 04-T-005
Published: July 23, 2019
Inventor: Prof. Thomas Gajewski
BD/Licensing Contact: Michael Hinton
For more information, click here.
​​​​​​• Monotherapy treatment with cancer immunotherapies limits treatment efficacy by accelerating the development of drug resistance and promoting the hyper-regulation of analogous un-drugged pathways. These shortcomings can potentially be addressed by synergistically combining multiple immunotherapy drugs into a single treatment regimen.
• The inventors demonstrated that simultaneously blocking multiple immune regulatory pathways (CTLA-4, PD-L1, IDO) in various combinations improved tumor control in vivo. Therefore, using combinations of FDA approved inhibitors of these pathways may boost efficacy over treatment with single therapies. 
• The invention is a treatment approach for multiple types of cancer that combines FDA approved antibodies targeting CTLA-4, PD-L1, and IDO. Simultaneously blocking these pathways promotes tumor CD8+ T cell response and natural IL-2 activity, driving a stronger anti-tumor immune response than each of these treatments alone.
• The drug combinations were evaluated in an in vivo mouse model of melanoma (CTLA-4+PD-L1, CTLA-4+IDO, PD-L1+IDO) and showed markedly improved tumor control over single treatment, with some mice achieving complete tumor rejection. A significant increase in IL-2 production by tumor infiltrating CD8+ T cells was observed just 3 days after treatment initiation.
Reference ID 12-T-132
Published: July 23, 2019
Inventor: Prof. Thomas Gajewski
BD/Licensing Contact: Michael Hinton
For more information, click here.
​​​​​​• Many cancer vaccines fail due to insufficient CD8+ T cell targeting.  To save patient lives, oncologists need tumor-specific vaccines that increase CD8+ T cell response.
• The inventors developed and validated an intra-tumoral vaccine adjuvant for muringe melanoma.  They used a p(ManTLR7) glyco-polymer to chemically link to tumor cell binding moieties (i.e., (f(ab)2, fAb, scFv, etc.).  Their adjuvant conjugation Anti-p(Man-TLR7) augmented tissue localization and biodistribution. 
• Anti-p(Man-TLR7) builds on earlier use of p(Man-TLR7) as a priming agent for strong CD8+ T cell responses to traditional model antigens and malaria vaccination models. 
• The team's in vivo experiments with B16F10 tumor-bearing mice demonstrated that Anti-p(ManTLR7) outperforms CpG, a TLR9 stimulating adjuvant, for tumor size reduction and survival rate.
Reference ID 19-T-048
Published: June 2, 2021
Inventor: Prof. Jeffrey Hubbell
BD/Licensing Contact: Michael Hinton
For more information, click here.
• Current autoimmune therapies such, as TNF-a and TGF-B inhibitory antibodies, are limited by their systemic side effects, which include increased risk of infection and suppression of tumor surveillance. Next generation therapies such as JAK inhibitors mainly improve upon cost and convenience, but they do not address side effects.
• It is known that collagen is not accessible in most tissues, but inflammation results in exposed collagen. The inventors exploited this distinction by developing a collagen homing platform to selectively deliver cytokine or antibody treatments to inflamed tissues, thereby reducing systemic side effects. 
• The invention is a formulation for anti-inflammatory antibodies consisting of a collagen binding domain conjugated to an antibody such as anti-TNFa, anti-TGFB, and anti-IL6. This composition selectively delivers the therapeutic antibody to the site of inflammation, thereby reducing systemic side effects and enhancing the accumulation of the therapy in inflamed tissue.
• The collagen binding formulation in conjunction with anti-TNFa or anti-TGFB antibodies were evaluated in vivo in mouse models of arthritis and idiopathic pulmonary fibrosis. The formulation significantly reduced overall disease scores (p<0.01) and increased localization of the treatment to the inflamed areas as compared to the current standard of care treatment alone.
Reference ID 19-T-024
Published: March 31, 2020
Inventor: Prof. Jeffrey Hubbell
BD/Licensing Contact: Michael Hinton
For more information, click here.
• Fibrosis is involved in 45% of deaths in the United States, and no treatment exists to reverse the progression of the disease. Fibrosing diseases include pulmonary fibrosis, congestive heart failure, liver cirrhosis, and end-stage kidney disease.
• Studies of myofibroblast differentiation have revealed the importance of properties of cell adhesion and how dysregulation of this process can lead to scar tissue formation and fibrosis in the lungs. The inventors found monocytes and fibroblasts cultured on soft surfaces cannot be differentiated into myofibroblasts, which are cells key to scar tissue formation in fibrosis. Talin 2 was identified as a protein involved in the adhesion mechanics in cells specifically in sensing the stiffness of surfaces.
• The invention focuses on novel treatments compositions for fibrotic conditions including the development of a novel anti-fibrotic intracellular target (siRNA Talin2) capable of reversing myofibroblast differentiation in vitro and lung fibrosis in vivo.  
Reference ID 21-T-091
Published: December 27, 2021
Inventor: Prof. Jeffrey Hubbell
BD/Licensing Contact: Michael Hinton
For more information, click here.
• Appearance of ulcers and slow wound healing are a hallmark symptom of several autoimmune disorders including type II diabetes. Current treatment approaches rely on antiquated bandaging, however bulkiness and inconvenience often result in low patient compliance. Growth factor-based therapies have demonstrated promise in clinical trials, but the high dosing required confers a dramatic increase in cancer risk.
• The inventors pinpointed the specific domains of the extracellular matrix protein, laminin, that promiscuously bind to multiple types of growth factors with high affinity. They demonstrated the translational implications of this discovery by engineering fibrin matrices covalently functionalized with the growth factor binding domains of laminin.
• The invention is a wound healing therapeutic consisting of the platelet clotting protein fibrin covalently linked to the growth factor domain of the extracellular matrix (ECM) protein laminin. The resulting matrix can be co-loaded with additional types of growth factors and administered to accelerate wound healing.
• In a type II diabetes mouse model commonly used for slow wound healing, the inventors demonstrated the capability of a fibrin matrix functionalized with the growth factors VEGF-A165 and PDGF-BB to significantly speed up wound healing relative to an unfunctionalized fibrin control.
Reference ID 17-T-083
Published: July 23, 2019
Inventor: Prof. Jeffrey Hubbell
BD/Licensing Contact: Michael Hinton
For more information, click here.
• A failure of central immune tolerance typically driven by autoantigen specific T regulatory (Treg) cells is the primary cause of many autoimmune diseases.
• This technology generates antigen specific immune tolerance for autoimmune or transplantation therapy via induction of tolerogenic dendritic cells (tolDC, PD-L1+, CD80- CD11c+)) which facilitate the differentiation of antigen specific Tregs.
• The invention is a liposome loaded with immunosuppressive drugs, toll-like-receptor (TLR) agonists, and any antigen of interest.  This unique co-formulation of activating and inhibitory signals generates a potent toIDC phenotype in vivo.  
Reference ID 22-T-003
Published: February 7, 2022
Inventor: Prof. Aaron Esser-Kahn
BD/Licensing Contact: Michael Hinton
For more information, click here.
• Microfluidic chips are useful in applications such as drug discovery assays because of their ability to replicate dynamic cellular environments in a high-throughput and automatable fashion. Despite this, currently available chips are limited by experimental variation, inability to track single cell behavior, and the requirement to custom design a unique chip for each set of experiments. 
• The inventors developed a novel microfluidic technology that uses passive diffusion for nutrient and ligand delivery to the cultured cells. This enables delivery of a wide range of dynamic signaling inputs to the cells without disrupting cell culture with sheer fluid flow.
• The product is a microfluidic chip that can culture 1500 independent conditions simultaneously. The device can accommodate adherent or non-adherent cells in monolayer or organoid format. Also included is a software package that can be used to program the on-chip pumps to prepare experimental dilutions.
• A series of experiments showed the capability of the microfluidic chip to culture sensitive cell lines for periods up to a week with no compromise in viability. Using the on-chip machinery for various effector molecule dilutions produced expected changes in cellular gene expression.
Reference ID 16-T-109
Published: Sept 15, 2019
Inventor: Prof. Savas Tay
BD/Licensing Contact: Michael Hinton
For more information, click here.
• Approximately 1/5 of antibiotic resistant infections in humans can be traced back to food and animals. The incidence of these infections is perpetuated by the widespread prophylactic use of antibiotics on farms. As such, there is an urgent need for alternative methods of preventing bacterial infection in livestock.
• It was previously assumed that differences in susceptibility of animals to enteric infection was caused by differences in adaptive and innate immunity. The inventors discovered that in addition to traditional immunity, the bacteria Clostridiales protect the host from exogenous pathogens through colonization resistance.
• The invention is a method of administering a consortium of Clostridia bacterium to supplement the microbiome of an animal and facilitate the prevention of enteric infections through colonization resistance. 72 different strains of Clostridiales may be chosen from for optimization of the treatment in different animals. 
• In proof-of-concept experiments using neonatal mice, a common model for immature immune systems and microbiota, the inventors showed that administration of Clostridiales protected the mice from S. Typherium (Salmonella, p<0.001 for bacterial levels in mouse feces) and C. rodentium (models an E. coli infection, p=0.0053 for mouse survival). The Clostridales bacterium were able to sufficiently colonize the microbiota of the neonatal mice.
Reference ID 16-T-096
Published: August 9, 2019
Inventor: Prof. Cathryn Nagler
BD/Licensing Contact: Michael Hinton
For more information, click here.
• Vaccine efficacy is limited due to the inability to deliver in-tact antigens to antigen presenting (APC) dendritic cells (DCs) while simultaneously activating the cells in a non-toxic fashion. Adjuvants have been used in an attempt to overcome the issues of vaccine efficacy, however they are poorly soluble which results in limited immunological activity.
• The inventors developed a co-polymer, p(Man-TLR), composed of (1) a novel TLR7 agonist for DC activation and (2) mannose for targeting antigen to DC surface receptors. Any antigen can be functionalized with the copolymer, ultimately boosting vaccine efficacy as compared to alternative adjuvants. The copolymer can be conjugated to any peptide antigen via amine chemistry.
• The inventors demonstrated the functionality of the p(Man-TLR) co-polymer with the model antigen OVA by showing that mice immunized with OVA-p(Man-TLR) had a larger population of CD4+ and CD8+ T cells than mice immunized with OVA and the current clinical standard adjuvant CpG. They further showed that the polymer immunized mice had a larger activated B cell population and immunoglobulin titer.
Reference ID 15-T-104
Published: July 23, 2019
Inventor: Prof. Jeffrey Hubbell
BD/Licensing Contact: Michael Hinton
For more information, click here.
• Inventors devised a nanomedicine termed "Nanotraps" that can completely capture and eliminate SARS-CoV-2 by triggering macrophages to engulf and clear the virus without becoming infected.
• System was tested in an ex vivo human lung perfusion system. In addition, zero toxicity was found in mice as evidenced by histological analysis of heart, liver, spleen, lung, and kidney, as well as blood chemistry and blood cell counts.
• The Nanotraps have the potential to be formulated into a nasal spray or inhaler for easy administration and direct delivery to the respiratory system, as an oral or ocular liquid, or subcutaneous, intramuscular, or intravenous injection to target different sites of SARS-CoV-2 exposure, thus offering flexibility in administration and treatment.
Reference ID 21-T-055
Published: Sept 14, 2021
Inventor: Prof. Jun Huang
BD/Licensing Contact: Michael Hinton
For more information, click here.
• The development of vaccines against challenging targets such as Dengue and HIV is limited in part by a lack of suitable adjuvants. TLR agonists such as CpG have been shown in the clinic to be sufficiently immune-activating for these targets, but they often promote excess inflammation. 
• It is known that transcription factor NF-KB controls both inflammatory expression and antigen presentation. The inventors discovered a panel of immune-modulating agents that selectively enhance antigen presentation and adaptive immune responses, while decreasing inflammation.
• The invention includes peptide (SN50) and small molecule NF-KB inhibitors that selectively and locally limit inflammation and potentiate the protective response of adjuvants. Combination with common immune adjuvants allows for the use of new vaccine formulations that would otherwise promote aggressive inflammatory responses. 
• In proof-of-concept experiments using SN50, influenza (Fluzone 2017/2018 tetravalent), dengue (DENV-2C capsid), and HIV (GP120) vaccines were evaluated with a CpG adjuvant. Results showed that SN50 decreases pro-inflammatory cytokines without impacting IgG titers, T cell response, or vaccine protection. Select small molecule inhibitors were tested in an ovalbumin (OVA) model with a CpG adjuvant, and they were shown to decrease the production of pro-inflammatory cytokines while boosting antibody levels.
Reference ID 18-T-658
Published: June 17, 2020
Inventor: Prof. Aaron Esser-Kahn
BD/Licensing Contact: Michael Hinton
For more information, click here.
• Clinically approved methods for the controlled release of oral therapies have demonstrated their efficacy in reducing required dosage, administration frequency, and side effects, thereby boosting patient compliance. Despite these successes, no solution is available for the controlled release of intravenously and subcutaneously administered therapies.
• The inventors synthesized copolymers composed of hydrophilic PEG and hydrophobic oligo(ethyl sulfide) (OES) blocks which self-assemble in aqueous solution to form two or three dimensional high aspect ratio nanofibril structures. Drug cargo can either be dissolved within the polymer, or covalently attached. The specific fibril structure and conditions that induce its disassembly can be tuned by altering the copolymer composition. 
• The inventors injected various mouse models with the nanoparticles conjugated with fluorophore. They showed that the particles formed a depot at the injection site, are delivered to the lymph nodes via flow and cellular methods and are delivered to tumor tissue and tumor associated immune cells. This demonstration emphasizes the applicability of the invention in cancer therapeutics and vaccines. 
Reference ID 15-T-079
Published: July 23, 2019
Inventor: Prof. Jeffrey Hubbell
BD/Licensing Contact: Michael Hinton
For more information, click here.